Consider taking these steps to make your voice heard and help children and families – NOW!
Action Day 2018
Action Day in Pennsylvania traditionally included capital caravans to Harrisburg from early childhood advocates across the state. In 2017, all advocates were invited to participate remotely via social media. This year, PennAEYC is again inviting area advocates to contact their legislators on June 19, 2018 and remind them that we need their help to build bright futures for children.
How You Can Help
PennAEYC
415 Market Street, STE 206
Harrisburg, PA 17101
Learn more about Action Day and download our Action-Day-2018-ToolkitFINAL for providers to participate.
Other ways to take Action
Check back here for ways you can timely advocate for high-quality early care and education at the state and national levels as issues arise! We need your voice.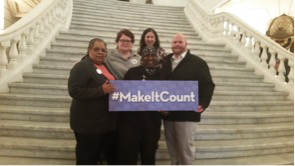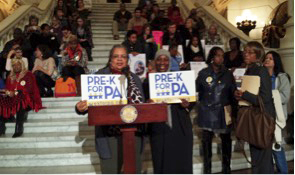 Urge Congress to Support the Child Care for Working Families Act
Sign the Petition Today!
In a perfect world Congress would pass a bill that would ...
Lower child care costs for low-income and middle-income families to a maximum of seven percent of household income through a sliding scale, regardless of how many children they have.
Support universal access to high-quality preschool programs for all low- and middle-income three- and four-year-olds.
Significantly improve compensation and training for the child care workforce to ensure that our nation's teachers and caregivers have the support they need.
Improve the quality of child care by ensuring that funding is available to enable providers to maintain high standards.
The good news is a bill like this exists - it's called the Child Care for Working Families Act. It was introduced in September, with our own Senator Bob Casey helping to lead the charge, but for this bill to move forward, we need you to speak out to tell Congress to cosponsor and support the bill. We are working with our colleagues on the state and national level to generate signatures in support of the legislation.
You can also post this link to your Facebook page and share on other social media outlets. Our timeline is short. The petition will end at close of business February 20th.
Please sign-on today.