Our commonwealth needs to make further investments and improve policies for the children and families served in the early care and education system. Read below for updates and information about Pennsylvania-focused policy and advocacy.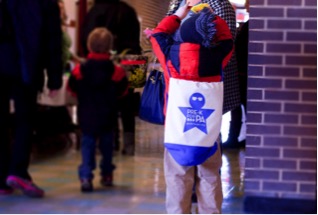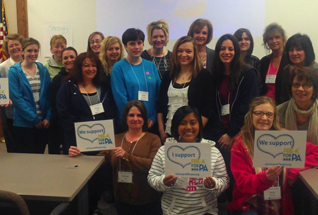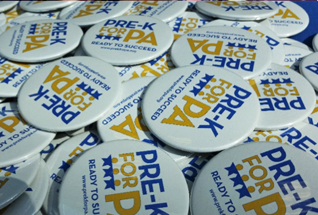 State Budget for Fiscal Year 2023-24
The 2023-24 state budget legislation, House Bill 611, was signed by Gov. Shapiro on August 3, 2023 and provides the following for early childhood care and education.
Pre-K
House Bill 611 level-funds PA Pre-K Counts and the Head Start Supplemental Assistance Program. Flat funding means no expansion of access and that the inadequate reimbursement rates for these programs will not increase, prohibiting programs from addressing the recruitment and retention challenges they face. In addition, this is occurring as the entire Pre-K Counts program is being rebid. Please know that we have advocated to maintain -- to the greatest degree possible -- the current county slot allocations to ensure stability in access for children as all counties continue to have unmet needs.
Child Care
The 2023-24 state enacted budget provides an increase of $90,377,000 in the Child Care Services line and $13,370,000 in the Child Care Assistance line, both under the Department of Human Services (DHS). This slightly more than $100 million will maintain the status quo in the sector in terms of child care subsidy utilization and subsidy rates increased through one-time federal stimulus funding. While certainly needed, this funding does not stabilize the child care workforce and funds specifically to increase wages are needed to recruit and retain child care teachers and staff.
Early Intervention
Infant/Toddler Early Intervention (Part C) received an increase of $15.4 million under DHS to serve more children and sustain a rate increase that was achieved through one-time federal stimulus funding. This is less than Gov. Shapiro's original budget proposal and we are disappointed more was not done to support the program more holistically, including solutions to address workforce shortages. Early Intervention (Part B) under the Department of Education for 3-5-year-olds received an increase of $10.4 million to serve more children.
Evidenced-Based Home Visiting
The Community-Based Family Centers line item was level funded. The Nurse Family Partnership received a $25,000 increase, which is a technical adjustment from previously enhanced federal matching funds.
Read the Early Learning PA Coalition press release here.
Building a Financially-Stable,

 

High-Quality Child Care System for

 

Pennsylvania's Children and Families:

 

Improving Subsidized Child Care Rate Setting
PennAEYC, in collaboration with
Start Strong PA
, released a policy brief that recommends that Pennsylvania conduct cost modeling to determine the true cost of child care and adopt an alternative payment methodology for child care subsidy. The price of child care is high and a burden for most families, while child care programs operate on razor-thin margins and child care teachers and staff are paid poverty level wages. The current system fails our families, the teachers and staff and program owners and directors. Parents can't afford to pay more, providers can't afford to be paid less and teachers can't afford to stick around. Determining the true cost of care is critical to addressing the underfunding in the child care system. Creating a cost estimation model will outline revenue and expenses to identify what it actually costs to meet certification standards, accounting for program variations, and additional costs related to high-quality child care and appropriate compensation for the workforce.
Read the full report here Improving Subsidized Child Care Rate Setting - 2-2023 Web
Improving Subsidized Child Care Rate Setting Presentation February 2023
Cost Gap Charts May 2023
Presentation Recording; Passcode: Z%ngF2T?
Recommendations for Infant and Toddler Contracts in Pennsylvania: A Model to Strengthen and Stabilize the Child Care System
PennAEYC, Children First, Trying Together and Pennsylvania Partnerships for Children released recommendations for Pennsylvania related to infant and toddler contracted slots to expand and improve the program. Pennsylvania is well poised to expand contracts for infants and toddlers based on the Infant and Contracted Slots Pilot and can serve as a model for strengthening and stabilizing the child care system. These recommendations highlight the policy goals for the expansion of contract-based slots for infants and toddlers and offers well-researched financing and monitoring recommendations to ensure accountability for the system and use of public dollars. Lastly, the recommendations include ways to strengthen equity in a contracts-based model to ensure funding reaches all Early Learning Resource Center regions.
Read the full report here Recommendations for Infant and Toddler Contracts in Pennsylvania: A Model to Strengthen and Stabilize the Child Care System
Statewide Advocacy Agenda to Improve Part C Early Intervention Services for Pennsylvania
PennAEYC and Pennsylvania Partnerships for Children released a comprehensive report, Statewide Advocacy Agenda to Improve Part C Early Intervention Services for Pennsylvania, which reviewed the data and current practices in Pennsylvania's system. There are five core recommendations:
Serving all children who can benefit from Part C EI through outreach, referral, enrollment
Ensuring Part C EI services offer the quality needed to make a difference
Achieving equitable access in Part C EI
Addressing mental health needs of infants and toddlers in Part C EI
Partnering with Medicaid to improve Part C EI
Read the full report here Statewide Advocacy Agenda to Improve Part C Early Intervention Services for Pennsylvania - JUNE 2022 FINAL ONLINE