Our commonwealth needs to make further investments and improve policies for the children and families served in the early care and education system. Read below for updates and information about Pennsylvania-focused policy and advocacy.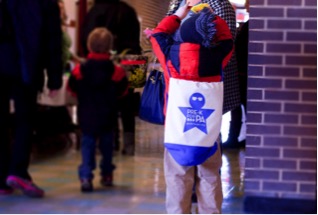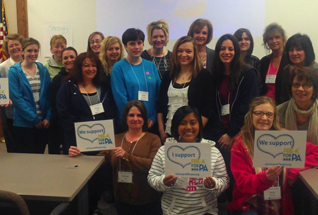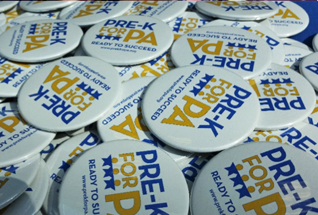 State Budget for Fiscal Year 2021-2022
Pre-K
The 2021-22 state enacted budget, Senate Bill 255, provides a total increase of $30 million for high-quality pre-kindergarten. This new state funding represents a $25 million increase for Pre-K Counts, which allows an additional 2,800 children to be served statewide and $5 million for Head Start Supplemental Assistance Programs, which allows an additional 470 children to be served statewide. This funding continues the commonwealth's tradition of expanding access to high-quality pre-k providing a once-in-a-lifetime opportunity for these young learners. Even with this budget increase however, more than 100,000 eligible three- and four-year-olds will still lack access to high-quality pre-k in Pennsylvania. We also advocated to maintain the rate increase provided to programs in the 2020-21 fiscal year, but unfortunately this was not included in the final budget deal.
Child Care
The Child Care Services and Child Care Assistance line items were level-funded in the state budget. The General Assembly and the Wolf Administration unfortunately ignored the recommendations  developed with input from over 1,000 child care providers and parents and did not include them in the Fiscal Code, which provides guidance on how line items in the budget may be spent. Pennsylvania's elected leadership has fallen significantly short on ensuring that American Rescue Plan child care funds are used to help families find and afford high-quality child care and to stabilize the industry.
The Fiscal Code does include language to give the Department of Human of Services the authority to spend American Rescue Plan Act child care stabilization funds. This was necessary to do as this is a new funding stream, unlike the remaining child care funds through the American Rescue Plan. The language predominantly follows the federal guidance for the funds, with the exception of requiring additional funds for providers serving infants and toddlers and setting out the specific reporting guidelines. Now, the Start Strong PA campaign calls on the Wolf Administration to prioritize and implement our recommendations for Pennsylvania's $1.2 billion in American Rescue Plan child care funding. With nearly 700 child care programs permanently closed and over 350 temporarily closed, families are struggling to find child care. Those child care providers that have managed to stay open are still incurring additional pandemic-related costs while operating significantly under capacity and are struggling to attract and retain teachers.
Evidenced-Based Home Visiting
The Community-Based Family Centers line item was level funded and the Nurse Family Partnership line item was essentially level funded, receiving a minimal increase to restore the appropriation to its prior level due to a slight reduction resulting from the state using enhanced Federal Medical Assistance Percentage (FMAP) funding last year. Home visiting received less than .02% (or a paltry $1.3 million) through the Maternal, Infant, and Early Childhood Home Visiting Program in federal relief since the COVID-19 pandemic.
Early Intervention
Infant/Toddler Early Intervention received an increase of $22.1 million under the Department of Human Services. Early Intervention under the Department of Education for 3–5-year-olds received an increase of $11 million.
General Assembly Action
The Pennsylvania General Assembly 2021-22 legislative session began in January 2021. PennAEYC staff monitor legislation that is introduced related to early care and education. See our position statements for legislation we have taken a position on.