Consider taking these steps to make your voice heard and help children and families – NOW!
Ways to take Action
Start Strong PA: Making the Case for High Quality Child Care Starting With Infants and Toddlers
PennAEYC is one of ten partnering organizations launching a campaign to provide children a quality educational foundation by giving our youngest children access to high-quality child care that their families can afford. We kicked off the initiative with a press conference in the PA Capitol Rotunda on Tuesday, January 29.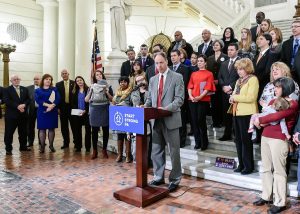 Download the campaign overview Start Strong Fact Sheet_FINAL. Also, if you are a provider share your story ShareYourStoryFlyer and if you are a family, share your story Share Your Story Flyer - Families
To learn more about the NEW Start Strong PA campaign, which is seeking increased investments in child care to expand access, increase quality, and support early childhood educators. Click here to view the the webinar Download handouts 11-2-18_STARTSTRONG-PM
Click here to join the effort.
Start Strong PA Partner Organizations: Fight Crime: Invest in Kids, First Up, Mission: Readiness, Pennsylvania Association for The Education of Young Children, Pennsylvania Child Care Association, Pennsylvania Head Start Association, Pennsylvania Partnerships for Children, Public Citizens for Children and Youth, Trying Together and United Way of Pennsylvania
Check back here for ways you can timely advocate for high-quality early care and education at the state and national levels as issues arise! We need your voice.