NAEYC strives to raise the quality of education for all children from birth through age eight. Accreditation systems are major part of NAEYC's efforts to improve early childhood education; they allow programs to provide the best learning experiences for young children and their educators by meeting national standards of quality.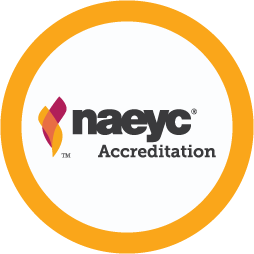 Accreditation of Early Learning Programs
Since 1985, NAEYC's national accreditation system has set professional standards for early childhood education programs, allowing families to find high-quality programs for their children
Click here to find a NAEYC accredited early childhood program in your community.
Interested in becoming a NAEYC accredited site? Visit NAEYC Visit NAEYC to find more information.
Benefits of being an NAEYC Accredited Program:
Helps to build a stronger team of teachers, administrators, and families working together to improve quality for children.
Improved standards for the overall program.
Recognition through NAEYC, including program listing on the NAEYC website in the Program Search section.
Announcement of program's accreditation in the NAEYC Early Learning News weekly newsletter to programs, members, media, and others.
Use of NAEYC Accredited logo for marketing purposes Attracts more families to enroll their children at program.
PennAEYC is pleased to acknowledge the achievements of all NAEYC-Accredited centers in Pennsylvania.