Welcome to our Capital Area chapter of PennAEYC's page!
The mission of the CACPennAEYC is to promote high quality care in the early learning community through mentoring, resources and support.
The CACPennAEYC expresses its mission in terms of three broad goals:
Facilitating professional development in the field of early care and education;
Advocating for public understanding and support for high quality programs for young children and their families;
Empowering and collaborating with a strong early learning community that shares common goals.
The Capital Area Chapter of PennAEYC, a local chapter of PennAEYC and NAEYC, is a non-profit organization committed to serving children, their families and early childhood professionals in Central Pennsylvania. We serve ECE professionals in the Cumberland, Dauphin, Franklin, Fulton, Perry and York counties. We provide Pediatric First Aid and CPR trainings, an annual ECE conference and hold a family Playdate Park event to celebrate the Week of the Young Child. An ECE college tuition scholarship is available on a limited basis for those who qualify. Our board is made up of volunteers who want to make a difference in the lives of young children. We welcome all who would like to attend a virtual board meeting to learn more about our chapter. To see details, visit our website at www.cacpennaeyc.org.
Contacts
Those interested in learning more about our chapter and membership can contact Pam Blazi by Phone: (717) 370-2804 or Email: pamela@growingadventures.net.
CACPennAEYC has a new mailing address: P.O. Box 6182, Harrisburg, PA 17112-9998.
______
Chapter Leadership
President – Pam Blazi, pamela@growingadventures.net
President Elect - Suzanne Brubacher, sbrubacher@xpointumc.org
Vice President of Support - Eric Jones, mrelc715@gmail.com
Vice President of Services - Karla Tarsi, karlatarsi@gmail.com
Treasurer - Kathy Stennett, kathsten2016@gmail.com
Secretary - Mary Lauchle, mlauchle@xpointumc.org
Member-at-Large - Alyssa Hahn, ahahn@childcareconsultants.org
Member-at-Large - Corrine Mitchell, cmitchell@cccforpa.org
Member-at-large - Colleen Lesher, colleenxpoint@gmail.com
Chapter Consultant -Dara Groff cacpennaeyc@gmail.com
______
Upcoming Events
Visit our Event Webpage for a complete list of up to date events and activities.
Recent Events: WOYC Play Date in the Park!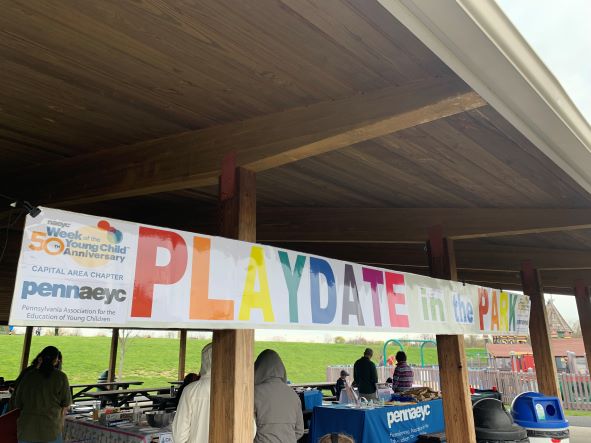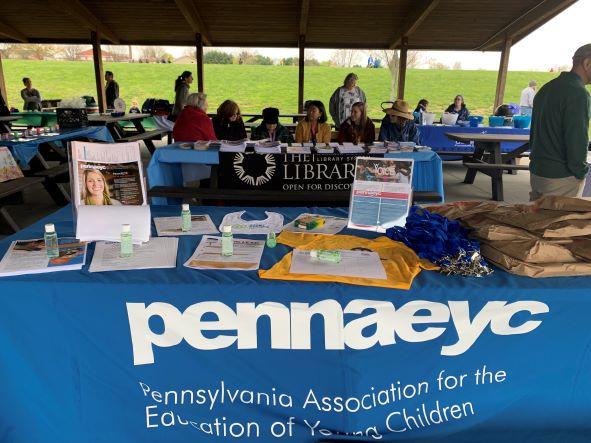 Our board meetings are held via Zoom and all are welcome to participate to learn more about our work in the ECE field. Visit our website, www.cacpennaeyc.com for more information.