Our commonwealth needs to make further investments and improve policies for the children and families served in the early care and education system. Read below for updates and information about Pennsylvania-focused policy and advocacy.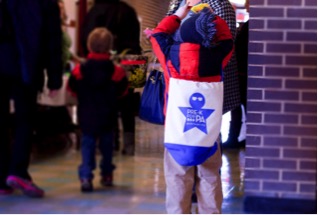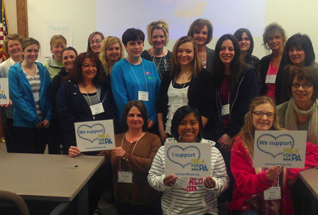 Latest News in PA:
Poll Shows Majority of Pennsylvanians Support Increased Funding for High-Quality Child Care Programs
A recent poll of 602 Pennsylvania residents conducted by Magellan Strategies  demonstrates strong support for funding high-quality child care. Key findings from the poll indicated that:
77% support and 55% strongly support increased funding for high-quality child care programs.

77% believe high-quality child care is very expensive and 82% believe the government needs to do more to make programs affordable for families.
Use this link to view the polling memo for further details Pennsylvania Early Childhood Learning Survey Summary 052918 RELEASE
State Budget Watch
Gov. Tom Wolf will give his fiscal year 2018-19 budget address on Tuesday, February 6. PennAEYC has advocated for the Wolf administration to continue to make increased investments in high-quality early care and education programs and we look forward to the budget proposal.
Your advocacy has made a difference and we will need your help to ensure the next spending plan prioritizes high-quality early care and education. Stay tuned for details!
Governor Wolf Prioritizes Early Care and Education in FY 2018-19 Budget Proposal
We are pleased to share that Gov. Tom Wolf's fiscal year 2018-19 budget proposal includes substantial increases for early care and education programs, recognizing the importance of investing in Pennsylvania's children and families! The proposal includes the following state funding investments:
Child Care - Expansion of $23 million
$10 million to serve 1,600 children waiting to access child care subsidies.
$10 million (coupled with $5 million in federal funds) to increase tiered subsidy reimbursement rates for STAR 2, 3 and 4 child care providers.
$3 million for a pilot program serving infants and toddlers in high-quality child care.
Today only 30 percent of subsidized children are accessing high-quality STAR 3 and 4 care, families are waiting almost 25 days to access subsidies they need to work, 43 percent of child care staff are receiving public assistance and child care subsidy reimbursements do not cover the cost of quality care. PennAEYC, along with partner advocacy organizations, called on the administration to increase access to subsidized child care for low-income, working families and to improve the subsidy "add-on" rates to support high-quality providers and those moving on the path to quality. Gov. Wolf's budget proposal recognizes the need and takes a great step forward for children, families and providers.
Pre-k - Expansion of $40 million
$30 million for the Pre-K Counts program
$10 million for the Head Start Supplemental Assistance Program
This expansion would serve 4,400 additional young children. 
Today only 39 percent of eligible children in Pennsylvania benefit from the once-in-a-lifetime opportunity to attend high quality publicly funded pre-k. The commonwealth ranks 18th of the 30 states investing in high-quality, publicly-funded pre-k and trails neighboring states such as New Jersey and West Virginia that are spending five and three times the rate per-capita, respectively, then Pennsylvania. As a leading partner in the Pre-K for PA campaign, PennAEYC is advocating that lawmakers fully-fund Gov. Wolf's proposal.
Evidence-Based Home Visiting and Early Intervention
In addition, the budget proposal includes a $6.5 million investment in evidence-based home visiting programs to expand home visiting for 800 eligible families and includes a cost of living adjustment for the two long standing home visiting models -- Nurse Family Partnership and Parents as Teachers. Both Early Intervention appropriations received proposed increases as well - a $11.6 million increase in the Department of Education budget and $2.4 million increase in the Department of Human Services budget - to continue to support the cost of children receiving services.
PennAEYC commends Gov. Wolf for his continued commitment to early care and education programs in the commonwealth. We will advocate for these investments as the budget process continues and stay tuned for what you can do to make these proposals a reality!
Legislative and Policy Updates
Rate Freeze Lifted for STAR 3 and 4 Child Care Providers
PennAEYC thanks the Wolf administration for lifting the child care subsidy rate freeze for high-quality STAR 3 and 4 providers as of Jan. 1, 2018. The freeze resulted in experienced providers who charged less than the maximum reimbursement rate continuing to be reimbursed at their 2008 level, regardless of whether their costs increased after that point in time. 
We know that low rates hinder providers in their efforts to improve the quality of their programs. This impacts the care and education children receive and can place an undue burden on parents who already pay more for child care than their incomes can withstand. PennAEYC, along with the Early Learning PA coalition previously recommended that the administration lifts the rate freeze for high-quality providers. 
We applaud the Office of Child Development and Early Learning for their work to make this policy change a reality and for making a wise investment to support high-quality early care and education providers, which will ultimately benefit the commonwealth's children and families.
General Assembly Actions
The Pennsylvania General Assembly returned to Harrisburg in late January for the second year of the 2017-18 Session. PennAEYC staff will continue to monitor legislation on our "watch list" and keep an eye out for any new developments in early care and education. See our position statements for legislation we are monitoring.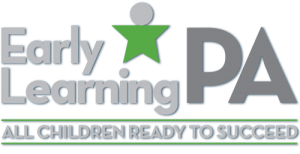 Early Care and Education Campaign Information
PennAEYC is a leadership organization in the following campaigns:
Early Learning PA (ELPA) is a statewide, non-partisan broad-based coalition that advocates access to voluntary, high-quality early learning opportunities for all Pennsylvania children. ELPA's public policy agenda focuses on four key components of early learning opportunities: pre-kindergarten, child care, home visitation and early intervention. The ELPA coalition supports targeted campaigns dedicated to advancing its early learning agenda. Early Learning PA's mission is to secure, by 2020, adequate resources to ensure all Pennsylvania's children and families have access to voluntary, high-quality early learning opportunities that capitalize on a child's most rapid period of brain development – birth to age 5.
For additional information on the campaign, visit www.earlylearningpa.org and follow on twitter @ELPAtweets.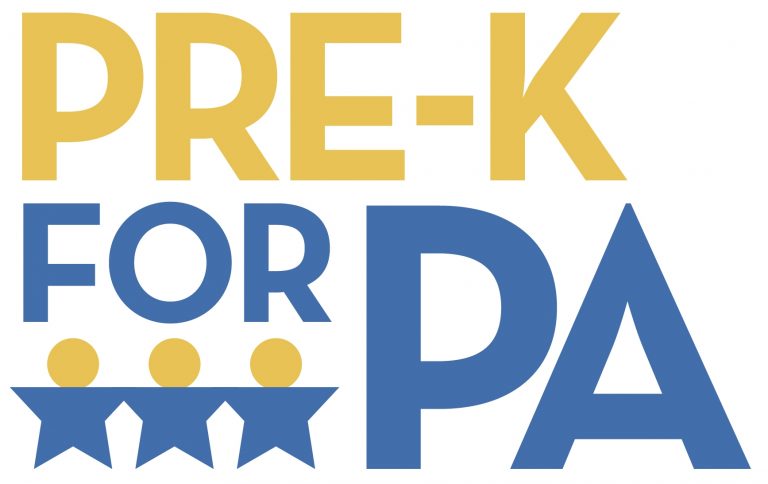 The Pre-K for PA Campaign has a vision that every 3 and 4-year old in Pennsylvania will have access to high-quality pre-k.
For more on the Pre-K for PA campaign, visit www.prekforpa.org, follow on Facebook at facebook/prekforpa and twitter @PreK4PA.